BBC BEACH -
SOUTH COAST TOUR
$60EC PER PERSON
| [Minimum of 2 Persons]
---
Our guided mini-tour starting from the beautiful Morne Rouge Beach (commonly known as BBC Beach), and making our way down the picturesque south-western coast to Portici Beach, Dr. Groom's Beach, and Magazine Beach (if conditions allow).
Tour Duration: 1.5 Hours
Kayak Capacity: 2 Persons
GoPro waterproof camera available.
Make it a private tour with photoshoot for an additional $120EC.
---
---
CAYAKS SUNSET PICNIC
$380EC PER COUPLE
| [Picnic for 2 Persons]
---
Enjoy the popular guided tour from Morne Rouge (BBC) Beach to the beautiful, secluded Portici Beach, where your very own private picnic awaits you. Savour foods from our wide selection of platters, all while feeling like you own the beach. Then at sunset, head back to BBC with a picturesque backdrop, as you and your partner wish it never ends.
Tour Duration: 2.5 Hours
Picnic at Portici Beach
Personalized theme setup.
Three food platters and bottle of wine.
Customizable menu options.
GoPro waterproof camera included.
---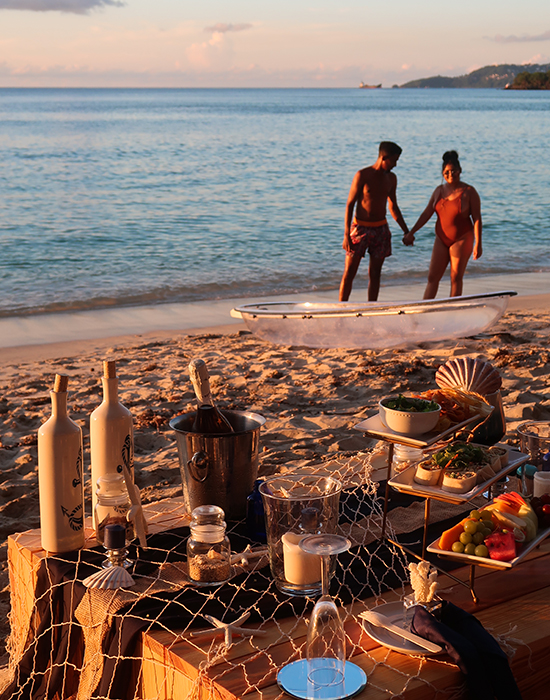 ---
---
FOR ADDITIONAL $120EC
---
"CAPTURE EVERYTHING" PHOTOSHOOT: STILLS, DRONE SHOTS, UNDERWATER SPLIT SHOTS, GOPRO FOOTAGE
---
© 2020 Cayaks. All Rights Reserved.